Published in Catalog Arrivi e Partenze_Mediterrano, GIUDA edizioni (2012)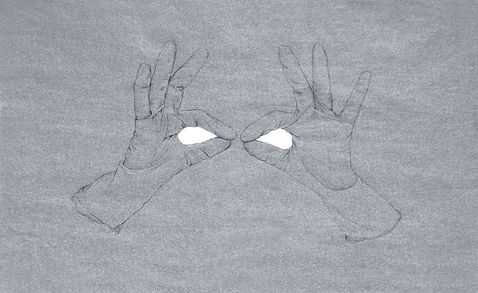 Manual de la imagen mental
Lugar Entre
This versatile and in certain ways virtuoso artist's favoured field of inquiry is the relationship between representation and reality, mirror and hypothetically real object, madness and its squint-eyed, perturbing glance. 
The work of this very young artist fits perfectly into the age-old line running through Hispanic culture from Calderόn de La Barca and Gόngora, right down to Maria Zambrano's reflections on time. 
With candour and lightness, and without ever renouncing a refined and impeccable aesthetic, she succeeds in tackling typically philosophical themes. Her production however sits firmly in the international visual grammar which, besides the specific cultural range, feeds on the questions posed by Walter Benjamin: in the age of reproducibility of the art work it is necessary to establish a dialectical relationship with artistic creation. 
All Lobera's works turn around these thematic hubs: from the performance/event PORTADORES. La imagen en el campo ampliado del cuerpo – created with Isabel Martínez Abascal, a tattoo artist from the other side of the Atlantic – to Procedencia desconocida, a conceptual map and installation which constitutes a visual reflection on different methods of representation among "normal" people and those considered mentally ill, especially psychotics and schizophrenics. 
Strongly influenced by surrealism, and Man Ray in particular, Lobera carries out her own re-creation of a visual almanac in Manual de la imagen mental, a series presented in Ancona, which dialogues with spectators by inviting them to execute a positive and ironic action, which is to say create their own mental image by means of a series of drawn gestures. This classificatory and normative obsession obviously clashes with the spirit powerfully oppositive to the sense of fetish: as if it were possible to touch with the hand, manipulate and assign the mental image. 
The theme of the place of images returns in Lugar Entre, but with different methods: drawing, photography, installation. 
The artist decontextualizes objects belonging to different moments of communication, the subject in this case being digital photography. Dissolution of the object is sustained by its decomposition in three moments, from the dialogue it establishes with the spectator: the female subject is seen from behind (and there is a clear pictorial citation in this choice) and is looked at from the camera viewfinder that also observes 
the spectator, in a play of mirrors further underscored by the glass.
Lobera, an artist who widely employs drawing as well as installation and performance, won the Premio Generación 2012 - Proyectos de Arte Caja Madrid.
---
1984 Spain. Lives in Madrid, Spain

Solo exibitions (last 3 years) 
2012 Somewhere between, Eva Ruiz Gallery, Madrid (Spain)
2011 Manual of the mental image, Rafael Pérez Hernando Gallery, Madrid (Spain)
2010 Reflection-Reflexion, UCL Slade School of Fine Art, London (UK)
Desvelatorio, Brita Prinz, Madrid (Spain)
Group exhibitions  (last 3 years) 
2012 Iceberg #1, Cur, Bernardo Sopelana / Ignacio Chávarri, Matadero, Madrid (Spain)
The Solo Project Fair, Eva Ruiz Gallery, Basel (Switzerland)
Peregrinatio, Art in the chapels of Sagunto, Cur, Fernando Castro Flórez, Sagunto, Valencia (Spain)
DKV Drawings collection, Sala Bretón, El Astillero, Santillana del Mar, Cantabria (Spain)
A work in search of empathy, Cur, Emma Brasó, Sala de Arte Joven Avenida de América, Madrid (Spain)
Gravity, Money, Concrete, Fabric, Cur, Vappu Jalonen, Suvi Lehtinen Gallery, Berlin (Germany)
Generation 2012, La Casa Encendida, Madrid (Spain)
Circuitos'11, Cur, Javier Hontoria, Sala de Arte J, A, de América, Madrid (Spain)
2011 Arqueologías temporales, Teatro de La Aurora, Santiago de Chile (Chile)
Projeto Imóvel, Edificio Copan, Bloco A, Cur, Alessandra Terpins, São Paulo (Brazil)
Tijuana - Feira de Arte Impressa, Vermelho Gallery, São Paulo (Brazil)
ArteLisboa, João Esteves de Oliveira Gallery, Lisbon (Portugal)
Multiplied Christie's, Contemporary Editions Fair, Ogami Press, London (UK)
Aventuras de líneas, Cur, Juan Manuel Bonet, Eva Ruiz, Gallery, Madrid (Spain)
XVIth International Graphic Triennial Frechen, Köln (Germany)
Regresso ao Acervo+Rita Magalhães e Almudena Lobera, João Esteves de Oliveira Gallery, Lisbon (Portugal)
Do not disturb, Mi alma en otra parte, Centro Galileo, Madrid (Spain)
Arts Libris, Art and Design Books Fair, Ogami Press' booth, Barcelona (Spain)
Justmad2 Contemporary Art Fair, Blanca Berlín Gallery / Ogami Press, Building Velázquez 29, Madrid (Spain)
XII Premios ABC de Arte, Museo ABC, Madrid (Spain)
2010 Intransit, CAC Complutense Art Center, Madrid (Spain)
MAC+I 09/10, Faculty of Fine Arts UCM, Madrid (Spain)
Graphic Grants' Show, Nuevoarte Gallery, Sevilla (Spain)
Todo Disfraz, Cur, Marlon de Azambuja, Espacio de Arte OTR, Madrid (Spain)
Estampa International Print and Contemporary Art Edition Fair, Ogami Press' booth, Madrid (Spain)
Youth Art Award UCM, Museo de América, Madrid (Spain)