Published in catalog Arrivi e Partenze_Mediterrano, GIUDA edizioni (2012)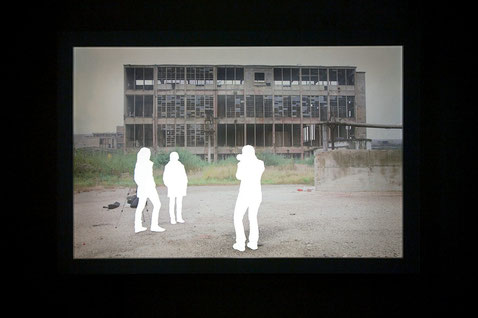 Mrdja is a Bosnian artist who already has exhibitions and projects to her credit in various parts of the world, from Berlin to New York and Milan.
She mainly uses photography to document an artistic oeuvre created through close contact with the public and the relationship with her own body. The theme of boundary and identitary limit supplies one of the most profitable sources of her work. 
Body is boundary and boundary becomes body: this is the point made by The Border, in which the wound on the artist's hand is compared with the frontiers of Bosnia in 2010. Borders as unstable as those of a wound as it gradually changes form, diminishes and follows the passage of time. Hers is a kind of "counter-cartography", as Claudia Zanfi puts it, which identifies the body as unique boundary, or which perhaps sees the ambiguity of physical confinement reflected in the ambiguity of corporeal limit: a boundary continually under discussion, brought into play, redrawn, with real or invisible barriers, by hands that take no account of the scars. Human geography becomes an actual map reflected on a body, her own. The state of exception, as Agamben defines it, becomes the subject represented by this work, which draws its greatest force from synthesis and from the simultaneous possibility of rising to the perfect symbolic form of the Bosnian situation. 
In Artists at Work, part of the INTRADA/modes of speech project curated by Karin Rolle, the encounter between the Bosnian artist and the Germans with whom she collaborated led to the creation of the light box on show here in Ancona: a photograph in which the human figures have been cut out. So the light shines from their silhouettes, indicating how in the artist's vision the exclusion of identitary elements – in this case artists from different countries – may be a positive point of departure. 
What remains and defines the creative action of the individuals is the landscape, which unites the bodies without concern about their background. The artist is born and acts in sociological and cultural space that reflects a light in which the artist acts and becomes somehow shadow.
---
Born in 1982 year , in Bosnia & Herzegovina.  
Lives in Banja Luka. 
Solo exhibitions (last 3 years)
2012 Changeable body, Sarita Vujkovic, Museum of Contemporary Art, Banja Luka
2010 Intrada/Modes of speech, Karin Rolle, Galery Terzic, Banja Luka  
Group exhibitions (last 3 years) 
2011 CYBERFEST, Kuryokhin Modern Art Center, St. Petersburg 
URBAN MAPS, Festival savremene umjetnosti, Prag
OPEN CITY, aMAZElab Art&Culture, Sarajevo
The border/performance, Ms Dockville festival, Hamburg
OPEN CITY, aMAZElab Art&Culture, Tirana
Cut-out moments, Marin Gallery, Umag 
Clothes as a symbol of identity, City Gallery, Bihac
OPEN CITY, aMAZElab Art&Culture, Skopje
Algebra/ Life path number, ITS-Z1 Gallery, Belgrade
Not So Distant Memory, The Big Screen Project, New York
2010 #5 Neunundneunzig, Freunde Imnamendesraumes, Berlin
OPEN CITY, aMAZElab Art&Culture, Milan
Women's Writing, Remont Gallery, Belgrade
BiH Video art, Photon Gallery, Ljubljana
2009 EMYAN 2 / Artifice, International Online Arts Festival
NamaTRE.ba 3 project, B&H Video art, Visual TV Container, Milan
NamaTRE.ba 3 project, B&H Video art, Academy of Fine Arts - Trebinje
ZVONO exhibition/award for the best young artist in B&H, Museum of contemporary art, Banja Luka