Published in Catalog Arrivi e Partenze_Mediterrano, GIUDA edizioni (2012)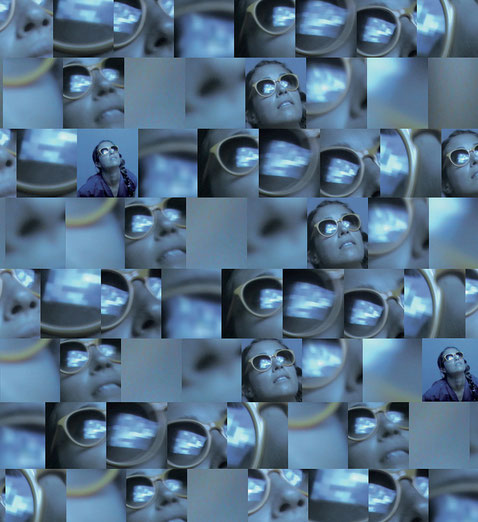 You in space are the parameter, the maximum limit, 
the end of my stroke
Clio Casadei began her artistic activity with drawing, subsequently going on to installation as a tool that better marks the fugacity of the artistic intervention, and converting this artistic phase into an audiobook, a narrative and expository form that unites these two cores. 
You in space are the parameter, the maximum limit, the end of my stroke consists of 112 pages and an 11 minute soundtrack where the artist herself is curator and narrator. It is a work that deals with the fugacity of immanence and weaves a curatorial dialogue with the spectator. 
Can the act of exhibiting be understood not as the object exhibited but as the communication thereof? Setting out from this question the artist decided to act solely within the space of time given by the occasion and to subsequently destroy all traces of that passage. The audiobook is the narrative testimony of this itinerary which comprises 5 works: 
Della distanza nella definizione (On Distance into Defining) 2008-2010, La storia è degli uomini (History Belongs to Humankind) 2008, La mia affezione, la mia eclissi (My Affection, My Eclipse) 2009, Prendi il mio tempo (Take My Time) 2008, Trilogia (Trilogy), ongoing works created on various occasions and in various places. 
The narrative journey starts out from a project linked to Istanbul, 
a city with which many of the invited artists are somehow connected, confirming that the capital of modern Turkey is an ineluctable centre of artistic practice in the Mediterranean. Observing the luminous form of the Turkish metropolis from a satellite its profound mutation can be recorded, not perceptible from the town plan, which is daily disregarded, but marked by the vertiginous increase of luminescence which from space shows just how much new humanity the city is accommodating every day. Also in the artist's subsequent interventions the pulsating centre is narration, grasping the dizzying thrust of the story to transfer it into an act, which must necessarily disappear to pursue time. 
In History Belongs to Humankind this element is underscored by a cartography that does not mark the spatial limit of places but traces the movements of people, their migration. The vexation of the ineluctable erosion of time running by is also evident in Take My Time, where the generous gift stated in the title is none other than a declaration of defeat.  
The exhibitory act is conceived as a still life: one that indicates a point in the creative process but does not grasp the unfolding thereof. 
---
Born in 1984 in Faenza
Lives in Forlì
Solo exhibition  (last 3 years)
2011 Tu nello spazio sei il parametro, il limite massimo, la fine della mia corsa,
Curated by Trial Version, Florence, Italy
Group exhibitions  (last 3 years)
2010 In Between, Arada, Tra, MSGU Tophane I-Amire Culture Center, Curated by C. Vecchiarelli, Istanbul, Turkey
2009 Rodeo#2. Un-limited, Palazzo Carminati. Curated by Blauer Hase, M.Lupieri, N.Vasiljievich, Venice, Italy
www.produzioni.cc