Publishing in catalog Arrivi e Partenze_Mediterrano, GIUDA edizioni (2012)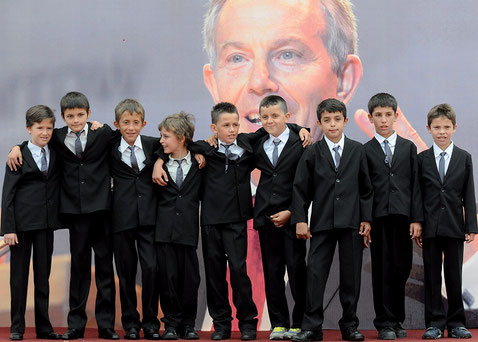 With irony Alban Muja pursues the infinite possibility of naming as a creative and autonomous act, an indisputable artistic form granted to all of us. 
In the multiple and transitory identitary drift that has overturned part of eastern Europe (and to which the remaining geography too is not insensible) the theme of names has become a disturbing and sometimes barbaric leitmotif, but it can also find an ironic lightness, a positive value, when observed with this young artist's melancholic gaze.
In Tonys the camera immortalizes, in a snapshot that recalls traditional festivals or official occasions, a group of children born in 1999 whose parents named them "Tonyblair" in honour of the former British prime minister who vigorously backed independence for Kosovo and is considered a hero by Albanians in this part of the world. Palestina and Tibet also come out of the same inquiry: a young woman and man from Pristina who tell why they bear the names of foreign countries. Naming, says a son, is a sort of primary creative act, and in these deviations from tradition Muja seems to catch a glimpse of change: what prevails in these choices is a break with the tradition of naming children after deceased relatives; but there is also the search for history within history, for a hidden omen/nomen which sometimes plays nasty tricks. How does it feel to be an Albanian from Kosovo with the name of a nation that doesn't exist? Official geography plays nasty tricks, and the fragile and precariously balanced identity of Kosovo seems, in the interpretation of Muja, to be a refraction of the Palestinian situation. In Blue Wall Red Door the name confuses places and orientation: the inhabitants use other systems, since in recent years the street names have changed continually and can no longer be an anchor for reaching one's destination. 
Growing up in an artistic space subsequent to the international acclaim achieved by artists such as Anri Sala and Marina Abramovic, Muja shares the same concern about ethical impact and political reflection in the high sense of art, coupled with a new weapon, indubitably painless, which is irony. Also evident is concentration on the private, individual aspect of inquiry: micro-stories that forcefully emanate the international political dialectic, but at the same time they are tiny grains and not a beach. 
His works have appeared in public spaces in Vienna and Berlin and numerous galleries in the countries of former Yugoslavia.
---
Born 10. 09.1980 in Mitrovica, Kosovo, Lives in  Prishtina, Kosovo
Solo exhibitions (last 3 years) : 
2012 Its all about names, Muzej in Galerije Mesta KC Tobacna 001', Ljubljana Slovenia 
2011 Politics of naming, Myymala2 Gallery Helsinki, Finland
2010 What's In A Name?, UnionDocs NY, USA
From east to the southwest, Able Kulturverein, Berlin Germany          
2009 All around, Siz Gallery, Rijeka, Croatia 
Group exhibitions  (last 3 years) : 
2012 Cross-Time Stories, Wallach Art Gallery – Columbia University, New York
Archive V - Security and insecurity, Açıkekran Yeni Medya Sanatları Galerisi, Istanbul Turkey
White, CDA Projects, Istanbul Turkey 
2011 Pixxelpoint 2011, Nova Gorica Slovenia
Roaming, Teatro Margherita, Bari Italy
Not So Distant Memory, Delaware Contemporary Center for Arts, USA 
Cross Border Experience, Škuc Gallery, Ljubljana Slovenia 
Not So Distant Memory, Cyberfest, St Petersburg Russia
URBAN MAPS, Tina B, Prague Contemporary Art Festival, Prague Czech Republic
VIDEO/ COLLAGE: Architecture, DAZ / Architect's association, Zagreb Croatia 
Ironapplause.net, exhibition of the YVAA, Slovak National Gallery, Bratislava Slovakia
Spaceship Yugoslavia, NGBK Berlin Germany 
Re-Locate' Apartment Project, Istanbul Turkey   
LAMPEMUSA, Archeological Museum, Lampedusa Italy
PRIVATE | PUBLIC  taking space -- > making space, Skopje Macedonia 
255 804 km², Brot Kunsthalle, Vienna Austria 
6th VIENNAFAIR, Wien, Austria
Balkan Trafik, Brussels, Belgium
Supermarket 2011 – the artist-run art fair in Stockholm, Sweden 
Big Screen Project, The Center For Book Arts, ARTspace Media Art NY USA
2010 14 international short film, Winterthur Switzerland
Double bind, Center for contemporary art 'Casa Masaccio' Corso Italy 
Sings of Futility, -Multimeridijan '10, Pula Croatia
Art forum Berlin, Germany 
Word for Word, Without Words'  Mestna Galerija / City Museum, Ljubljana Slovenia
SCREENSAVER, Open Video Projects, Gorizia - Italy
255.804 km2, Mestna Galerija / City Museum, Ljubljana Slovenia 
Qui Vive?, Moscow International Biennale, Moscow Russia
The Another Side of The Coin, Škuc Gallery, Ljubljana Slovenia 
LONDON LOVES, Vitrine Gallery. London UK
5th VIENNAFAIR, Wien, Austria
Contemporary art fair artbrussels Brussels, Belgium                                                       
Berlinale, 60 film festivale, Berlin Germany
5th Video Festival 'Catodica, Trieste Italy
Biennale Quadrilaterale 3/Biennale OFF, Museum of Modern and Contemporary Art, Rijeka Croatia 
  Spasticus Artisticus, Ceri Hand Gallery, Liverpool UK
albanmuja.blogspot.com