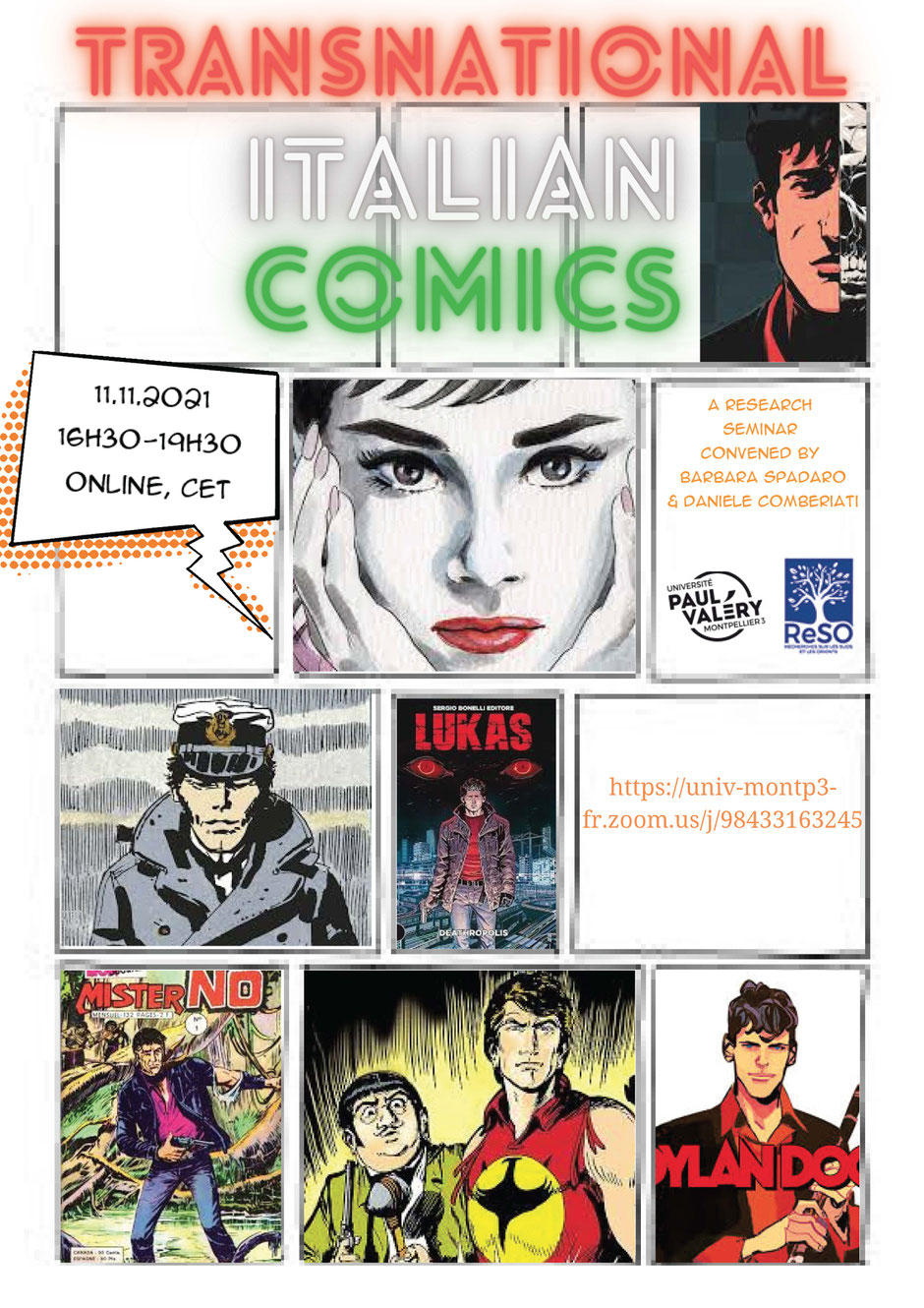 11 november 2021, 16:30 
Universitè Paul Valery
A Research Seminar convened by Barbara Spadaro and Daniele Comberiati
for a Special Issue of the Journal of Graphic Novels and Comics. 
11.11.2021 - 16h30-19h30 (Time Zone Paris)  https://univ-montp3-fr.zoom.us/j/98433163245 
16h30: Eric Villagordo (UPVM), La Bande dessinée en mouvement. Circulation des Suds et Bande dessinée 
16h35: Barbara Spadaro (University of Liverpool) & Daniele Comberiati (UPVM), Introduction 
The Italian Fumetto: Memory, Translation and Transformation/1 
16h45: Loredana Polezzi (Stony Brook University), The Making of a Transnational Classic: Hugo Pratt's Corto Maltese, Colonial Memory and Decolonial Remediation 
16h55: Matteo Stefanelli (Università Cattolica del Sacro Cuore), Fumetto Export. History and Recent Trends in International Circulation of Italian Comics 
17h05-17h20: Discussion 
The Italian Fumetto: Memory, Translation and Transformation/2 
17h20: Daniele Comberiati (UPVM), Comics and Transgenerational Memory. The Dylan Dog's case.
17h30: Chiara Giuliani (University College Cork), Collective Biographies and Transnational Identities in Primavere e Autunni and Chinamen. Un secolo di Cinesi a Milano.  
17h40-17h55: Discussion  
17:55-18:10 Break 


Transnational Margins, Comics Activism. 
18h10:  Nicoletta Mandolini (Universidade do Minho), Wonder Feminisms. Comics-Based Art-Activism against Gender Violence in Italy 
18h20: Alessia Mangiavillano (Coventry University), Migrants in the Frames: Comics Journalism across the Mediterranean Border 
18h30-18h45: Discussion 
Graphic Journalism in the Mediterranean. A Conversation with Elettra Stamboulis. 
18h45-19h05 Barbara Spadaro and Elettra Stamboulis. 
19h05: Transnational Italian Comics. A response, with Ivan Pintor Iranzo (UPF)
19h30: End of the seminar